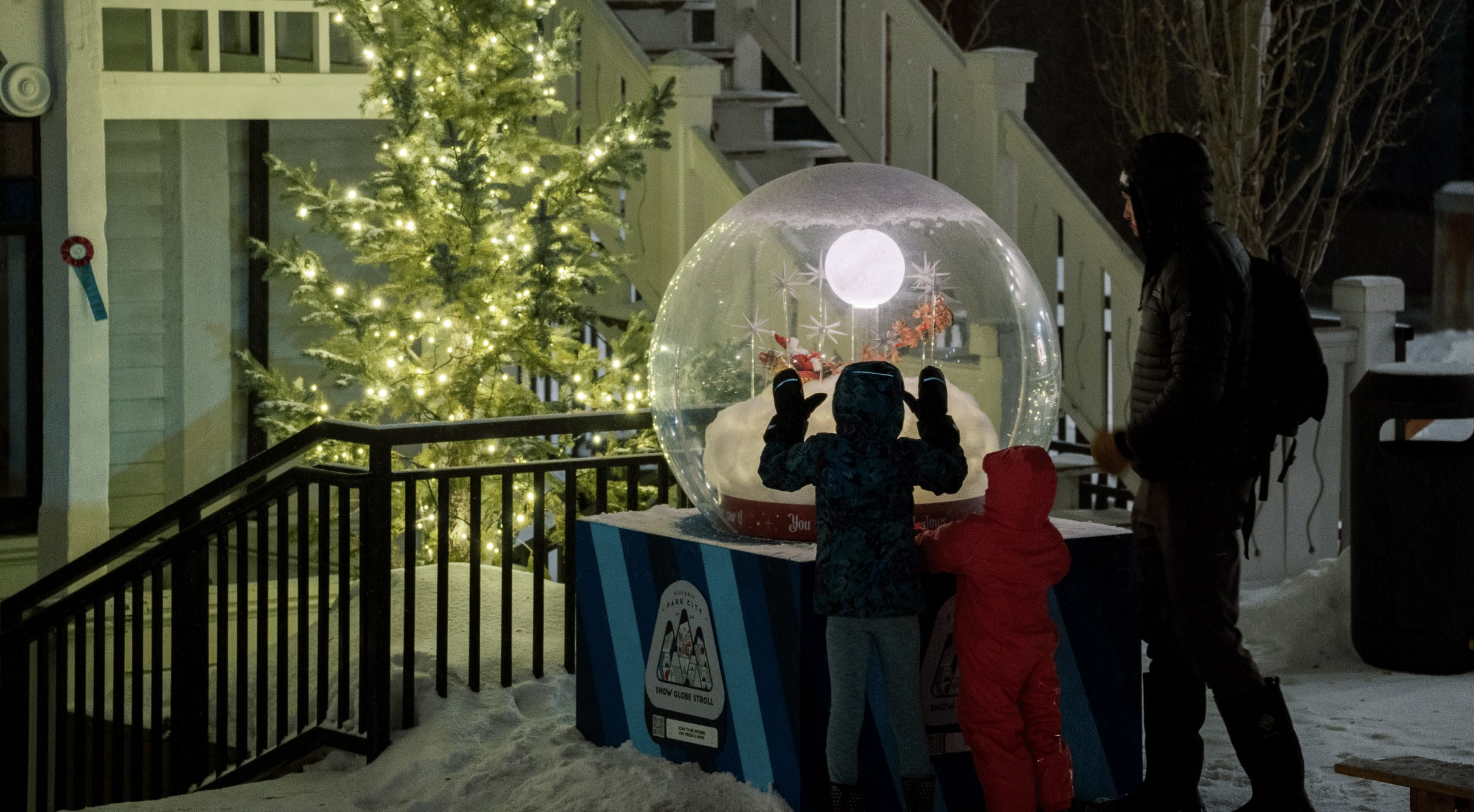 Snow Globe Stroll 2023
Despite the chill in the air, the Park City's Historic District brings a warm, welcoming energy to Main Street this holiday season, enjoying the Snow Globe Stroll, Grand Menorah Lighting, and Santa's visit with family and friends, as well as choosing Historic Park City businesses for your holiday shopping, will be sure to make your season merry and bright.
The Snow Globe Stroll featuring seven life-size snow globes, will return to Main Street November 22 through January 5. Each themed around different holiday songs including "Last Christmas," "Rockin' Around the Christmas Tree," "Frosty the Snowman," "Winter Wonderland," "Rudolph the Red-Nosed Reindeer," "Let It Snow!," and "Happy Holiday." Passersby can enjoy festive Historic Park City holiday decorations including Santa's mailbox and Main Street Christmas tree.
Scan the QR code on the globes and enter your information in weekly drawings for gift certificates from select Main Street businesses. Weekly drawings begin November 23 and run through January 1, 2024.
Holiday festivities scheduled on Park City's Historic Main Street include:
Santa's Mailbox
Park City has made special arrangements for Main Street to be a drop-off site for letters to Santa Claus! Don't forget to drop off your letters to Santa's Mailbox located at the top of Main Street, across from by December 22nd to make sure all wishes get to the North Pole in time!
Trivia Night every Tuesday
Collie's Sports Bar (738 Main Street)
This family friendly sports bar is a great place to Apres Ski in addition, offers Trivia night every Tuesday. Come test your knowledge!
Fred Calleri + Arron Memmott - "Alpine Attitude" Exhibit
December 8 | Gallery MAR (436 Main Street)
Fred Calleri and Aaron Memmott will both bring a selection of fresh paintings, just in time for the holidays.
Menorah Parade on Main Street
December 9 | 6:00-8:00pm
Menorah Lighting at Miners Park on Main Street
December 11 | 6:00pm
Ski Map Originals: Painting by James Niehues
December 29 | Gallery MAR (436 Main Street)
For the first time ever, original artwork from the most storied artist in snowsports can be yours. See them at Gallery MAR in Park City.
Santa Comes Down the Town Lift
Saturday, Dec. 16 | 5:00-7:00pm
Santa will be doing a trial run the week before the Christmas holiday and will make an appearance coming down Park City's Town Lift.
Le Réveillon de Noël at Courchevel Bistro
Sunday, December 24
In France they celebrate Le Réveillon on December 24 with family and friends in the form of a large meal.
Make Reservations now this will sell out.
Gallery Stroll
Friday, Dec 29 | 6:00pm
Park City is a true art town, with plenty of galleries that showcase a wide variety of local and inter- national art. One of the best ways to experience what art in Park City is all about is to join in on the monthly Gallery Stroll put on by the Park City Gallery Association. Along the route you'll pop in and out of 15 of the city's best galleries, many of which are located right on historic Main Street.
Egyptian Theater Holiday Line Up
Park City's historic home for live stage performances featuring the following for the holiday season:
Nov 30th - Dec 3rd 2023: The Squirrel Nut Zippers - Holiday Caravan!

Dec 8th - 17th 2023: Park City Holiday Spectacular and Sing-A-Long!

Dec 21st - 24th 2023: Kurt Bestor

Dec 26th - 28th 2023: One Night In Memphis!

Dec 29th - 31st 2023: The Drifters
New Year's Eve Celebration
December 31 | 350 Main
350 Main will be holding a special dinner for New Year's Eve. We will have a 4-course meal with a special menu. The night will be divided into two seatings. The first seating will be from 5-6:45 p.m. and will cost $150 per person. The second seating will be from 7:30-10 p.m. and will cost $250 per person. The second seating will have the table for the rest of the evening with a DJ starting at 9 p.m. and playing until midnight. Reservations are currently open and will be go quick! I will attach a copy of the dinner menu for you as well.